A Deep Dive into Scrolling and Trait Generation
I am going to explain what people are going to be doing when they're scrolling.  Like, what's the point?  Also, I want people to understand why they might want to pay more for one Avastar, or why they might want to be frugal and go for the less expensive Avastar with the coolest Traits.
In the next few days, we are going to turn on the actual website.  Up to this point all people have seen are Founders and Exclusives.  We had the Founder sale, and that went really well.  We averaged about 4.5 eth per Founder.  The amazing Devil built them all by hand, and he was able to use nearly every Trait from every series within this generation.  Now we'll be starting up with scrolling, where you scroll through and discover unique Avastars.  You can conceivably just scroll forever and never buy one.  You're still going to be able to randomly generate them in your browser for free.  In theory, you can have fun forever just looking at Avastars until the series caps.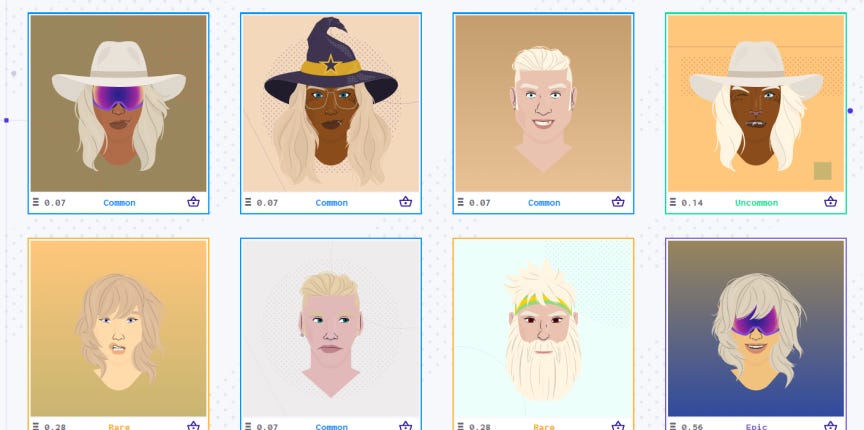 -Series and Traits-
Series #1 will only have Traits that were available in Series #1, and Series #2 works the same.  In that way, every series is going to have different Traits available than the last.  Now, not every Trait disappears at the end of every Series. It's staggered by the Trait Tiers. There are Common, Uncommon, Rare, Epic and Legendary Traits.  
Common Traits change out every single series.  

Uncommon Traits trade out every two series.  So, you'll have the same Uncommon Traits in series #1 and #2, and then they'll change to new ones for series #3 and #4.  Uncommon Traits will change the last time in series #5.

Rare Traits change every three series, so you'll have the same Rare Traits for series #1,#2, and #3.  Then you'll have a different set of Traits for series #4 and #5.

Epic Traits run for four series.  You will have the same Epic Traits for series #1, #2, #3 and #4.  Then series #5 gets all-new Epic Traits.

Legendary Traits stay the same throughout series #1-#5
I should point out that there are a couple of exceptions to this.  The face shapes and skin tones don't follow that exact path that I described, because we had a really limited set of Traits to work with. There are only about 12 or 15 each.  So it's not exact for everything, but that's the general way that these work. For example, when you're scrolling through and click on an Avastar, you'll be able to see that the skin tone could persist through all five series, even though it's Uncommon.  Face shape, on the other hand, does trade out, even though it's also Uncommon.  That trades out after three series.  We don't follow our strict rules on those two classifications, but for everything else, you can expect a predictable pattern.
Hopefully this helps everyone understand more about our scrolling mechanism, and how traits are generated throughout the 5 series.  Based on the success of the Founder sale and the amount of hype surrounding Avastars, we are anticipating a strong rollout of scrolling.  In addition, as time goes on the structure of the rollout allows for some interesting situations that can occur as a result of the random generation.  In the next blog post, I will dive a little deeper into those combinations and the rarity of Traits.