Avastar Combinations and Traits
Avastars has pioneered a new technology that allows all of the artwork metadata to live natively on the Ethereum Blockchain. Learn more at Discord.gg/avastars and https://twitter.com/AvaStarsNFT
Avastars discovery happens in your browser. You scroll through trillions of possible combinations that are generated just for you to see, and from those you decide which ones will become an NFT. It is essentially a matter of preference if you wanted to see something like zombie skin with heart-shaped glasses and messy hair.  However, if you were scrolling through and saw that, you should eventually figure out that Zombie Skin Tone is a Legendary Trait.  That means it only shows up <1% of the time.  So the rareness of traits and scarce trait combinations are a reason to potentially look at buying an Avastar.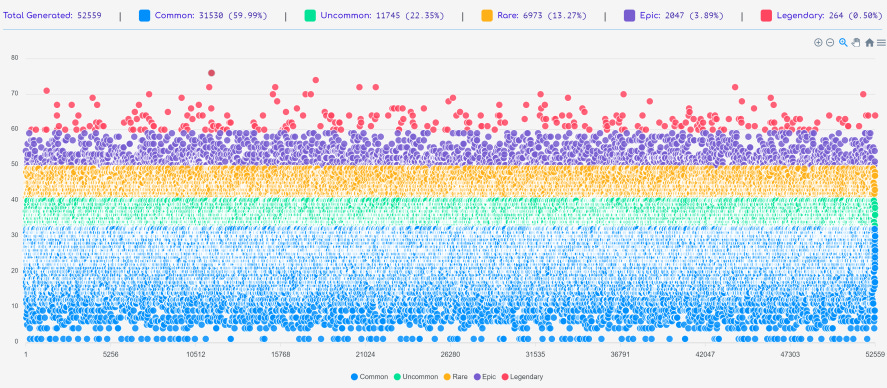 Depending on the number of traits you are looking for, it may be very difficult to recreate any Avastar generated through scrolling.  You can probably find two desired traits together if you're determined. Three traits are going to get a little bit more difficult to find.  if you're trying to combine four or more things, that's going to be possible but exceedingly difficult.  At the end of scrolling phase, once Series 5 caps, people will be able to build their own Avastar based on the traits they've collected. But for now, we're focusing on the discovery of Primes, which is going through and scrolling and discovering randomly generated Avastars.
The other part of all this, is that just because a trait may be Common, that doesn't mean that it's going to be the most frequent trait once we get through the five Series. Remember, Common traits go away at the end of every Series. If a certain Common trait didn't resonate with the collectors, then maybe only a few of those exist by the time 5000 of that Series are minted.  We might end up where only five or six have a certain trait, but that happened to be a "Common" trait.  Then if you look at the entire collection, maybe that ends up being the rarest of all the traits in that Series.
Legendary traits are the ones that are like kind of flashy.  For example, the Space Helmet and the Top Hat are going to be there for all five Series since Legendary traits persist for the entire Generation. If people like those traits, they will probably make more of them.  I'm going off my assumptions a little bit, but that may make some of these Legendary traits less scarce, even though they are Legendary traits. So that's the interesting part you want to look out for, as far as is not neglecting the more common traits.  We don't know what the rarest ones will end up being.  You can't just tell that by what they're called - that rarity designation just tells us how often they're going to show up a given Series when scrolling.
This unique method of trait generation is one more feature that sets Avastars apart from other NFTs.  Allowing people to manually select the best Avastars through scrolling will assure high-quality artwork and combinations in series #1-5.  This opportunity will also allow everyone to be able to purchase an Avastar with traits they are happy with at reasonable prices, while also having some extremely scarce combinations out there for high-end collectors.  All of these traits play a factor in each Avastar's Rarity Ranking.  In the next blog post we'll examine ranking and pricing for the upcoming rollout.