Discover more from Tokensmart - Your Guide to the Metaverse
Tokensmart is a community focused on raising the bar for NFTs (non-fungible tokens) by exploring innovative products, platforms, and people. discord.gg/nft
Over 4,000 subscribers
TokenSmart NFT Humpday Report #5: Axie Infinity Is Catching Fire, Launching AXS 🔥
---
Welcome to the 5th issue of the NFT Humpday Report, a weekly column covering and providing embedded analysis on the NFT economy's biggest topics du jour. Brought to you by WIP meetup collaborators and nft42 community hub TokenSmart.
---
Axie Infinity, the Ethereum ecosystem's answer to Pokémon, formally unveiled its Axie Infinity Shards (AXS) token this week. The governance token will lead to the digital pets game being managed and owned by its community and will be earnable by players who participate around the Axie universe.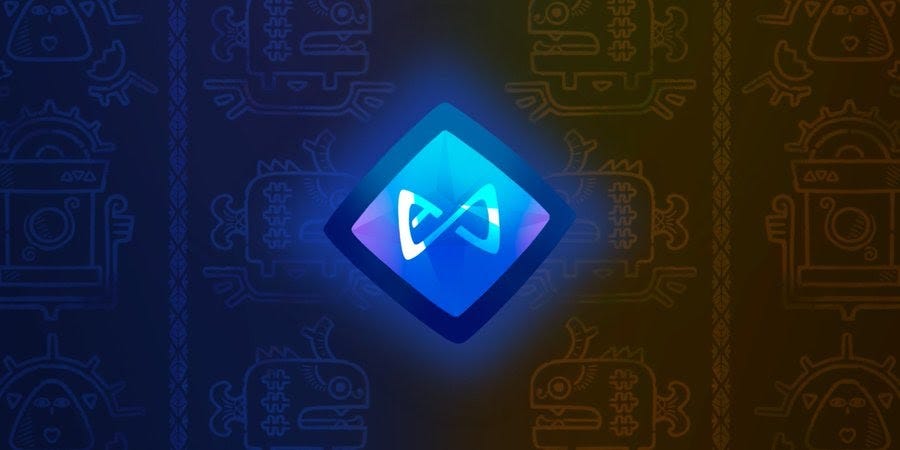 Driving the news: AXS was in the works behind the scenes for around a year. Crypto research firm Delphi Digital (which notably bought up a slew of rare Mystic Axies back in Sept.) helped the Axie Infinity team design the token, which will be rewarded to all Axie players "based on past activity." The token is being released in high-profile fashion via Binance Launchpad using a lottery system that starts on Oct. 27th. The combination of 1) Axie Infinity's explosive growth and organic community, 2) AXS's sound tokenomics, and 3) Binance's involvement has crypto users inside and outside of NFT Land diving into Axie Infinity like never before.
Why AXS: Marking the next evolution of Axie Infinity as a play-to-earn game, AXS is a means of rewarding and empowering the game's players. The tokens can be staked to earn further token rewards, and they clear Axie Infinity's pathway to decentralized governance. In the future, AXS holders will collectively govern the game instead of any single team or company doing so (as has been the centralized model of mainstream games to date).
Token metrics: The Axie Infinity team previously raised $864k USD in an AXS private sale, in which 10.8M ASX were sold at a price of $0.08 each. The public Binance Launchpad sale will see $2.97M raised, with 29.7M AXS sold starting at a price of $0.10 each. The token's total supply is capped at 270M, which will break down like so: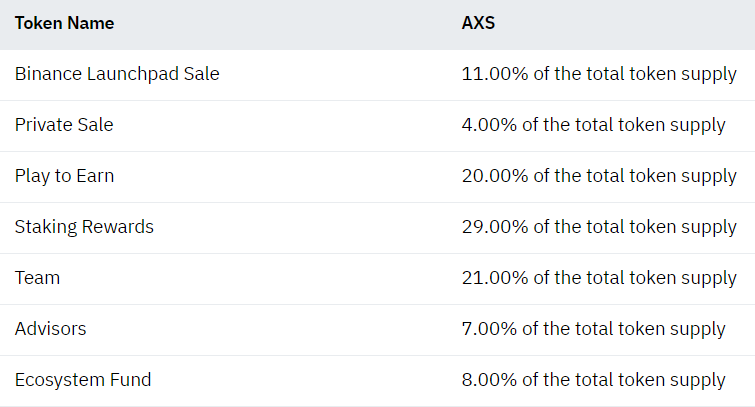 Source: Binance Research
By the numbers: Activity around the Axie Infinity ecosystem is up across the board, as the game continues to catch fire and gain traction. The AXS launch is catalyzing a new surge of interest, too.

Source: Axie Infinity's Notion
Why there's buzz: Governance token launches have taken Ethereum's decentralized finance sector by storm this year as users have jumped at the chances to take up stakes in promising young DeFi projects. That said, AXS will mark one of the first times a governance token launch takes the NFT sector by storm. The hype is high because of Axie Infinity's superior position in the space and the game's status as a play-to-earn pioneer.
Between the lines: Expect more high-profile NFT projects to follow suit with their own governance tokens to similarly reward their stakeholders and decentralize their governance and treasury processes.
What they're saying:
Be smart: In the coming days, there are a few things you'll want to look out for amid all the AXS excitement.
What's next: After the launch of AXS in the coming days, Axie Infinity has a full slate lined up for 2021. For example, next year will see the Axie Battle beta and the project's Land Gameplay Community Alpha launch. We'll also see Axie Infinity launch its AXS staking dashboard and kick off its migration to the Ronin sidechain, which the game's team built as a custom-tailored scaling solution.
---
Thanks for reading the 5th NFT Humpday Report! Check back this time next week for more excellent NFT ecosystem coverage! Cheers🌠